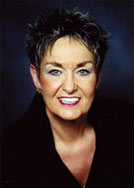 Who is June A. Donaldson, MBA, EdD, Certified Mediator and Arbitrator?
Dr. June Donaldson, best-selling author and international business consultant provides keynotes, workshops, retreats, and lunch and learn sessions on a wide variety of workplace issues. Her work has taken her throughout North America, the Asia Pacific and Caribbean.

June started her career with the Government of Alberta and then moved to an extensive career in the IT industry – primarily IBM Canada. Team that with her far reaching academic credentials, her mediation and conflict management background and her motivating and encouraging style and it results in June providing realistic, common sense perspectives and remedies to her clients.

June focuses her offerings on the integration of Emotional SMARTS®, otherwise known as "emotional intelligence", with critical workplace initiatives related to how people:
lead with courage and vision
manage unrelenting change
participate productively in teams
effectively negotiate in a timely manner
provide empathic client sales and service
confidently manage conflict.
In terms of background, June has had, and is having, a dynamic and successful career. She was one of the first women sales representatives with IBM Canada. She then became one of the first women managers in the IT industry. She established her company to provide cost-effective, content rich, and practical learning and development opportunities. June is proud of her many long term client relationships in a wide variety of industries and organizations - some of which go back over 20 years.

Academically, June has a Diploma in Adult Education from St. Francis Xavier University; a Diploma in Conflict Management from the Alberta Arbitration and Mediation Society; a Master of Business Administration (MBA) degree from Gonzaga University in Spokane, Washington; and a Doctor of Education (EdD) degree with a specialization in adult learning.

Dr. Donaldson has received extensive media coverage for her ground breaking work. She has served in the Rotary Club and on board positions ranging from establishing a Federal Government loan fund for women entrepreneurs through to Enviros, an organization that supports troubled young people. A highlight of June's career was when she participated in the Canadian Prime Minister's Task Force on Women Entrepreneurs. June has received nominations for the Calgary Chamber of Commerce Small Business Owner of the Year award, the Canadian Women Entrepreneur of the Year, and twice as a YWCA Woman of Distinction.

To learn more or to book June for your next learning and development event, please call her at 403 287-2244.

Thank you for visiting our site!